The latest from Schuller Kitchens
Our recent visit to Schuller HQ in Herrieden, Germany
This year, Schuller reached a staggering 50-year milestone since the brand was officially established. To celebrate, they invited us, along with 5000 others, to join them in celebration at their headquarters in Herrieden, Germany.
Russ & I decided to drive over to Herrieden and were able to see the changing landscape of Belgium and Germany. We stayed in Nuremberg for 2 nights and luckily had time to be a tourist for a while!
Much like Russ Deacon, Schuller is a friendly, family run business. Schuller shares our value for outstanding customer service as well as our passion for high quality, sustainable interior designs.
Schuller entered the UK in 2003 and through their agent Inhouse Ltd, they have managed to already become a leading exporter of kitchens.
The quality of Schuller kitchens is undeniable, from a mere glance at their sleek, contemporary designs one can appreciate the high- quality workmanship that has gone into its design.
Introducing Colour Concepts from Schuller
Schuller accommodates for all with an enormous variety of kitchen designs from their minimalist Parma  design which has a narrow raised edge giving it a contemporary look to the Biella design and classic shaker style door Valetta,  just 3 of the 7 different ranges using the 24 Colour Concept colours. Over the years, Schuller has become known for its innovative interior elements that are tailored for each customer's individual requirements.
Some examples of this include; wooden cutlery inserts in drawers and electric opening assistance for cupboards, drawers that can turn an ordinary kitchen worktop into a professional culinary workspace, C-move which lets the contents of the unit descend to the user.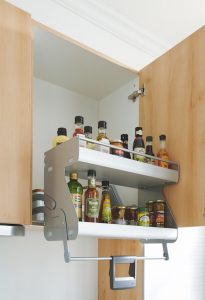 Don't think that Schuller is just restricted to the kitchen, colours can be combined or contrasted to continue into the living space or home office area .
Open plan has been around for a few years but is still very popular as people like to socialize with their hosts around the kitchen island or units extending across kitchen area to divide but be inclusive.
As Schuller would say Kitchens for Life !!